Basic Strategy Teasers: Best Week 15 NFL Betting Options
by Chris Vasile - 12/16/2016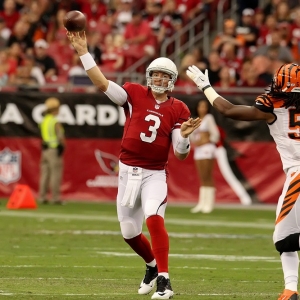 Week 15 of the NFL marks the start of the Saturday football. Next week we will be treated to a full day of Saturday games thanks to Christmas, with just two games taking place on Sunday and the Monday-nighter. This week, thankfully, we will be treated to a game that has some meaning behind it. It features a team that is in the playoff hunt, so we won't have to settle for two garbage teams like we have plenty of times with Thursday Night Football. The Miami Dolphins travel New York to take on the lowly Jets. This game is huge for the Dolphins. They sit tied with the Denver Broncos for the second wild-card spot, and this is a very winnable game. Unfortunately, they lost starting QB Ryan Tannehill to a knee injury and he is likely out for the season. Matt Moore will start in his place and will be in tough against Gang Green. Moving on to Sunday, some of the games I'm looking forward to watching are the Detroit/New York Giants game, the Patriots against the Broncos and the Buccaneers versus Cowboys.
As for last week's BST selections, it was a perfect 5-0 sweep. Both of my top selections - Green Bay +8.5 and Detroit -2.5 covered, with the Packers even winning outright as a home dog. The rest of the picks saw the Bills, Saints and Jets all covered their adjusted spread of +8.5. You can see the results for yourself here. Week 5,Week 6,Week 7,Week 8,Week 9,Week 11,Week 12,Week 13 and Week 14.
In this article, I will be giving you teams that I think will be the most attractive when teasing the spread either up or down six points. This is called the "Basic Strategy Teaser". A basic strategy teaser is a two-team, six-point teaser that uses the power of NFL key numbers, which are the most common margins of victory, to move certain spreads around the three- and seven-point mark.
Week 15 of the NFL is slim pickings for the BST system. As of writing this, there are just two games that fit within the system, but luckily enough I liked both of those teams to begin with.
All lines are courtesy of 5Dimes
Miami Dolphins @ New York Jets
Spread: Jets +2.5
Six Point Teaser: Jets +8.5
I completely understand if you are hesitant to put your money on a team such as the Jets. Hell, even I'm hesitant to a certain degree, but not this week. This is the week they play a full 60 minutes and dish out a little revenge on their AFC East rival.
We all know that the Jets have been absolutely miserable this year, almost to the point where all you can do is laugh at them. They are 4-9 on the season and have had a carousel of quarterbacks start games for them. All three quarterbacks on the roster are terrible, but one of them had to assume the starting role by default. This week, like last, it will be Bryce Petty under center to start the game, and confidence should be high with the Baylor product after producing a come-from-behind win last week on the road against San Francisco. Yes, the 49ers shouldn't even be considered a team this year, but the learning experience and production will go along way in his development. Petty also had some help last week from Bilal Powell, who ran for 145 yards and two touchdowns. He should be able to produce another big game going up against the 30th-ranked run defense in the league. And if Matt Forte is back and ready to go, this could very well be a game where the Jets keep the ball away from Miami, win the time of possession and make it a slow, grind-it-out style game.
The Dolphins, on the other hand, are in some serious trouble. They haven't made the playoffs since winning the AFC East in 2008, and just when things were starting to look good for them Tannehill got injured and sent the team into crisis mode. I absolutely do not believe in Matt Moore as a starting quarterback. He has attempted just 35 passes since the start of the 2012 season, and 19 of those came in one game against the Jets in the 2012 season. For what was an already inconsistent and conservative offense, the downgrade at QB just set them back a few steps and now the playbook will be dumbed down just enough to allow the Jets to stay in the game.
If you think the Dolphins are the better team and can fluke off a three-point win, go ahead and take them. I'm teasing this game up, because there is no way the Dolphins will win this game by more than a touchdown.
New Orleans Saints @ Arizona Cardinals
Spread: Saints +2.5
Six-Point Teaser: Saints +8.5
This is one of those games where I am banking on an emotional letdown from the Cardinals. Last week they went into Miami with a very slim chance of making the postseason. They ended up losing that game 26-23, and with that loss they were officially eliminated from postseason contention. They now must somehow regroup and find a way to slow down one of the league's top offenses. I just don't see where the motivation comes from.
Just last year the Cardinals were NFC West champions and now this year they would be in the cellar of the NFC West if the Rams and 49ers weren't in their division. Carson Palmer looks completely lost out there, and the offensive line is weirdly terrible. It is almost mind boggling how David Johnson is still putting up the numbers he is, both rushing and receiving, playing with almost zero talent around him. He is the sole reason the Cardinals have the number of wins they do. Besides the lack of motivation, the Cardinals just cut their No.2 receiver, Michael Floyd, this week, just two days after his arrest on suspicion of DUI. The dressing room has quit, and we will see it first hand on Sunday afternoon.
The Saints, on the other hand, have been poor offensively for the past two games, putting up just 13 and 11 points, respectively. Drew Brees has now thrown for zero touchdowns and three interceptions in back-to-back games, which is the first time in his career he's done the deed. They will likely get their main receiver back in Michael Thomas, who missed the last week's games with a foot injury.
I've seen plenty of football featuring these two teams, and I know when the going gets tough that I would rather have the offense that can put points on the board in bunches than an offensive unit which is very one-dimensional. Take as many points as you can in this game.
Doc's Sports has been successfully handicapping the NFL for years - more than four decades in the business - and wants to give new clients a chance to try our service for free. Click here for the hassle-free sign up and get $60 in free NFL picks today .