2016 Carolina Panthers Expert Predictions and Season Win Totals Picks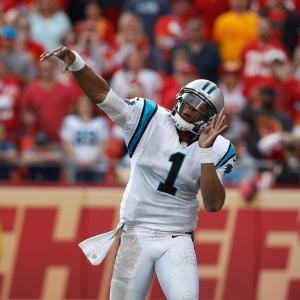 2015 Record: 15-1
2016 Las Vegas Season Win Total: 10.0
2016 Season Win Total Prediction: 'Over'
Are the Carolina Panthers the last of a dying breed or at the forefront of a Renaissance?
The Panthers are the last of the pure Cover-2 Teams in the NFL. Now, when you hear someone say "Cover-2" you probably think that it is just a defensive scheme. And it is. But a Cover-2 Team buys in, wholly and completely, to the philosophy that has made this one of the indelible systems of the last quarter century.
The Cover-2 is a 4-3 base that features two massive, run-stuffing tackles. Carolina has two of the best. They are bracketed by pass-rushing defensive ends, an area Carolina has been slightly lacking since Greg Hardy went on a woman-abusing romp. Next are the linebackers, the key component. The LBs in the Cover-2 are not pass rushers like they are in the 3-4 base that teams like Denver and Pittsburgh run. Instead, the linebackers need to stop the run and be smart enough to assist in the team coverage schemes. The safeties play back and refuse to get beat deep while the corners play man-press and force teams to beat them with intermediate routes.
That's the defensive scheme. But the philosophy of the Cover-2 is much deeper. What this team is basically saying is that its opponents cannot execute at a high level on offense for a full 60 minutes. Carolina may cede some first downs. But by eliminating big plays (while also attempting to make big plays of their own) the Panthers defense put opponents into a pressure-cooking vice that forces teams to score using long, sustained drives. Some teams and quarterbacks simply aren't good enough or patient enough to hold up under that pressure for a full game.
Conversely, Carolina's offense is set up to minimize mistakes, control the ball and the clock with a power running game, and create big plays with an aggressive vertical passing game. Having a healthy Kelvin Benjamin can only help them execute this plan this season.
Further, Carolina's belief is that they can execute their game plan and grind teams down more than opponents can stand. And by draining the clock, avoiding mistakes and limiting opponents' big plays the Panthers can shrink their own margin for error while increasing their opponent's. And if a game is close in the final five minutes - a solid game plan for any team - the Panthers believe that their quarterback, Cam Newton, can make more plays than yours. The reigning MVP certainly did so last year.
This was the exact game plan of the Colts throughout Peyton Manning's career. And it was the crux of one of the most successful runs in NFL history. The Colts defense couldn't make nearly as many plays as Carolina's. But it was good enough to keep games close and let Manning beat the opponent in the final five or 10 minutes.
Of course, there was one flaw in the Cover-2 system. And it is why Manning and the Colts won only one Super Bowl (and why Carolina will struggle to even do that). Eventually, deep into the playoffs, Cover-2 Teams run into opponents that CAN execute at that level for a full game. What's more, those teams usually have elite, special athletes and players that can shatter the carefully-crafted box that the Cover-2 tries to put people in. When that happens, the conservative nature of the Cover-2 is exposed.
The Panthers will rely on this mindset again this season and this scheme has allowed them to go 19-1 in their last 20 regular-season games. I don't see any chinks in this armor and the Panthers are perfectly assembled to execute the game plan once again. I'm playing this one 'over' as I see the Panthers going 11-5 and winning their division once again.
Panthers Regular Season Schedule (All times Eastern)
WEEK

DATE

OPPONENT

TIME (ET)

Location

Result

1

Thu, Sep 8th, 2016

at Denver

08:30 PM

Mile High Stadium

2

Sun, Sep 18th, 2016

San_Francisco

01:00 PM

Bank of America Stadium

3

Sun, Sep 25th, 2016

Minnesota

01:00 PM

Bank of America Stadium

4

Sun, Oct 2nd, 2016

at Atlanta

01:00 PM

Georgia Dome

5

Mon, Oct 10th, 2016

Tampa_Bay

08:30 PM

Bank of America Stadium

6

Sun, Oct 16th, 2016

at New_Orleans

01:00 PM

Superdome

7

Bye

8

Sun, Oct 30th, 2016

Arizona

04:25 PM

Bank of America Stadium

9

Sun, Nov 6th, 2016

at St._Louis

04:05 PM

L.A. Memorial Coliseum

10

Sun, Nov 13th, 2016

Kansas_City

01:00 PM

Bank of America Stadium

11

Thu, Nov 17th, 2016

New_Orleans

08:25 PM

Bank of America Stadium

12

Sun, Nov 27th, 2016

at Oakland

04:25 PM

Oakland Coliseum

13

Sun, Dec 4th, 2016

at Seattle

08:30 PM

CenturyLink Field

14

Sun, Dec 11th, 2016

San_Diego

01:00 PM

Bank of America Stadium

15

Mon, Dec 19th, 2016

at Washington

08:30 PM

FedEx Field

16

Sat, Dec 24th, 2016

Atlanta

01:00 PM

Bank of America Stadium

17

Sun, Jan 1st, 2017

at Tampa_Bay

01:00 PM

Raymond James Stadium
Robert Ferringo is one of the top football handicappers in the country and tallied an unrivaled $20,800 in football profit between 2011 and 2015, including his amazing 2013 NFL season in which he hit 62.1 percent (95-58). Robert has produced 14 of 22 winning football months and an amazing 37 of 57 winning football months over the past decade. Robert has hit nearly 60 percent winners over his last 750 totals picks and is the most prolific big play football handicapper in the nation, going 101-63 (62%) on all football plays rated 5.0 or higher since 2010. Also, Robert's proprietary KING College Football Betting System has posted three of four winning seasons and is 122-92 over the last three years (57.0 percent).
We are offering new clients $60 in free college football picks for Robert's picks or any Advisory Board handicapper of your choosing. Get your free college football picks now!
Read more articles by Robert Ferringo