NFL Power Rankings Week 9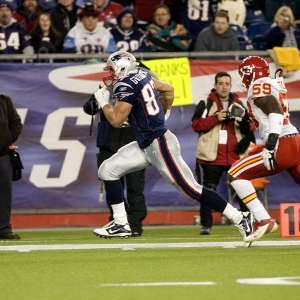 With four overtime games, one tie, and a second game that was nearly a tie it is safe to say that things are tightening up throughout the NFL. Early-season optimism has given way to mid-season crisis and desperation, and every team in the league is fighting to stay relevant and in the hunt heading into the second half of the season.


Parity has been a long-stated goal of the National Football League. It has always been ironic to me that the league owners, as revolting a group of bloodthirsty capitalist pigs as you will find on the planet, have seemingly adopted this communist manifesto. But after more than a decade of "parity" being nothing more than a propaganda-laced pipe dream sold to teams consistently found in the bottom two-thirds of the league, the NFL appears to have achieved its mission.
I have been doing these NFL Power Rankings for over 10 years. And in all that time I have never seen as much "parity" (ne: mediocrity) throughout the NFL. At this point the hierarchy is pretty obvious. New England is by far the top team, and then there is a massive, massive gulf to the second tier. That second tier consists of about five or six teams. But after that, the teams ranked No. 8 through No. 18 are almost interchangeable and teams No. 19 through No. 26 aren't all that far behind.
There are still dregs. As long as Cleveland and Jacksonville still have teams there will always be dregs in the NFL. But the "middle class" of the NFL has never been encompassed more teams.
That is, of course, why NFL underdogs have been cashing at such an impressive rate this year. It also made it that much more jarring last weekend for the players to pound the books. Favorites went 9-4 against the spread last weekend. That included several very public favorites with New England and Dallas coming through against the number.
However, while that snapped a streak of three straight winning weekends for the underdogs (26-15 ATS). I don't know if it will be enough to totally reverse the trend. Because the playing field is so level right now, my gut feeling is that the underdogs are going to continue to be consistent performers at the window throughout the rest of the campaign.
Here is Doc's Sports NFL Power Rankings for Week 9:
1. New England Patriots (7-1) - Count me among those that don't understand the Jamie Collins trade. If the coaching staff couldn't get a talented, Pro Bowl-caliber player to perform then they should take some of the responsibility. And this whole idea about his contract situation or looking ahead to next year to justify the deal is garbage. The Patriots are so far above and beyond everyone else in the NFL that it would be a major upset if they don't win the Super Bowl. But you don't want to get into November and realize that you were just one or two talented guys away from winning the title.
2. Dallas Cowboys (6-1) - The idea that Dez Bryant is "tradable" or that the Cowboys don't need him (as promoted by bobblehead Colin Cowherd) is complete idiocy. Bryant is going to be a force down the stretch for Dallas, and he is exactly the top of top-level performer on the outside - the kind of guy that can singlehandedly wreck an opposing game plan - that teams need in the playoffs. This week's situation - coming off an OT home win in a divisional game and now going on the road as a significant road favorite against a feeble opponent - is exactly the type of situation where the Cowboys have come up small in the Garrett-Romo Era. We will see if this is the same old Cowboys if they come out lethargic, turn the ball over, and let the Browns hang around longer than they should.
3. Denver Broncos (6-2) - These guys are limited offensively, and the defense has shown some considerable cracks over the last month. But who else am I supposed to put in this slot? There were just 53 combined points scored in the two meetings with the Raiders last season, with the road team winning both matchups. Prior to their loss to Oakland last December Denver had won and covered the spread eight straight times against the Raiders.
4. Seattle Seahawks (4-2-1) - The Seahawks have gone 10-0 straight up and 8-2 ATS in their last 10 games on Monday Night Football and they are 4-0 ATS after a loss. Their seven-point spread is indicative of a team that is expected to dominate. More than half of their wins (nine of 15) the past two seasons have come by 10 points or more, and the Seahawks have been one of the most dominating home teams in the league for more than a decade. However, they are just 1-6 ATS in their last seven games as a favorite.
5. Pittsburgh Steelers (4-3) - Bettors likely won't know until kickoff whether or not Ben Roethlisberger is going to suit up on Sunday against the Ravens. However, the line is moving as if he is going to play, dropping down to -1.0 as of this writing. Even Terrell Suggs has said he expects Roethlisberger to be under center. Roethlisberger did miss the first meeting last year, a 23-20 Ravens overtime win, and he hasn't beaten Baltimore since November of 2014.
6. Kansas City Chiefs (5-2) - Nick Foles will get the start this Sunday against the Jaguars with Alex Smith stuck in the concussion protocol. The spread on this game only moved a point from its open. But when the number was set the books knew it was 50-50 that Smith would play, so I wouldn't take that adjustment as much of an indicator. Kansas City is now 16-2 in its last 18 regular-season games, and Foles previously worked with coach Andy Reid in Philadelphia. I thought Foles looked decisive last Sunday when pressed into service, and I don't expect the Chiefs to lose much offensively with him under center.
7. Atlanta Falcons (5-3) - Dan Quinn absolutely can't count. He made not one but TWO terrible decisions regarding two-point conversions last week. Quinn has proven to be completely incompetent in terms of game management and that stuff is a red flag for what I think will be his eventual demise in Atlanta. Not only did his stupidity nearly cost the Falcons the game, but it also resulted in Atlanta backers to having to deal with winning but not covering against a soft 2.5-point line. Matt Ryan just continues to be one of the most underrated great quarterbacks in the NFL. He made two brilliant throws on touchdowns - the bomb to Taylor Gabriel and the game-winner to Mohamed Sanu - and continues to be masterful.
8. Minnesota Vikings (5-2) - Good…god. Minnesota's offense is obviously the worst in the NFL, but it is getting up there in terms of one of the worst of the decade. I'm not sure how giving long-time loser Norv Turner the boot is going to change that. I also don't understand why Matt Asiata isn't their feature back. He is powerful and shiftier than people think. I would pound the rock with him 25 times a game to set up some play-action and rolling pockets to stimulate the passing game. But what do I know? The Vikings are still 36-15 ATS in their last 51 games and 23-8 ATS in their last 31 home games. They are 4-1 ATS against the Lions.
9. Arizona Cardinals (3-4-1) - How many puppies do you think that Bruce Arians is going to maim during his bye week? Fifty? One hundred? The bye week couldn't have come at a better time for the frustrated and banged up Cardinals.
10. Green Bay Packers (4-3) - The Green Bay offense has devolved to Aaron Rodgers making a five-step drop, no one getting open, Rodgers scrambling around a bit, and then either trying to make a throw on the run or taking off himself. It's not a good look. This is just Green Bay's sixth game against the Colts since 1991, and these teams haven't squared off since 2012. Despite all the negativity thrown Green Bay's way, they are still a solid 6-3 ATS in their last nine regular-season games and they have covered back-to-back spreads. I can't tell if this team is getting undervalued or if the market is just ahead of the fact that this team isn't very talented.
11. Oakland Raiders (6-2) - I am not even going to come close to bashing Derek Carr. I have been saying in this exact space -here and here for example - that Carr is a bona fide stud and a true franchise quarterback. However, he has been missing more throws than normal. Again, you can't knock a guy that rung up 500 yards passing and four touchdowns during a road win. But he missed two wide-open receivers for touchdowns in the fourth quarter and seems to be having a little bit of trouble throwing to the sidelines. The Raiders are 8-18 ATS after a win and 3-7 ATS in their last 10 divisional games.
12. Washington Redskins (4-3-1) - It is going to be interesting to see if the Redskins can avoid the same type of hangover that befell both Arizona and Seattle the week following their tie game. Washington has to feel more like the loser for that draw with Cincinnati since it was their missed chip shot field goal that led to the tie to begin with.
13. San Diego Chargers (3-5) - The Chargers and the Titans actually played once before this season, squaring off in Week 1 of the NFL preseason. San Diego's rushing defense was thrashed that day, allowing a stunning 288 yards on the ground. I am stunned that San Diego has been able to shape its group into a Top 10 rush defense since then (they are No. 6), but it will be interesting to see how they hold up against the Titans the second time around.
14. Buffalo Bills (4-4) - This is all shaping up as a typical Rex Ryan season, and I can already see the 7-9 record next to the Bills name come January. But lost in the slog is the fact that Tyrod Taylor is an absolute magician. After Phil Rivers I don't know that any quarterback in the league is doing more with less than Taylor. I have no idea how he rung up 27 points against the Patriots with no receivers and no LeSean McCoy. McCoy is supposed to practice Thursday. If he can't go on Monday there is no way I would expect the Bills to stick within the number against Seattle. However, I think Buffalo's blitz-heavy approach could stifle an injured Rusty Wilson and laboring Seahawks offense.
15. Houston Texans (5-3) - Houston was able to get a much-needed win last week against an overrated Lions team. However, there is still a lot more bad than good with this group as they head into their bye week.
16. Philadelphia Eagles (4-3) - Back-to-back road divisional games is a tall order for the Eagles. It is going to be a tall order for Doug Pederson to get his team back up off the mat after going to overtime down in Dallas and now traveling to New York to face a Giants team coming off a week of rest. That's a big situational disadvantage. The Eagles have dominated their series with the Giants, though, going 8-1 ATS in their last nine trips to the Meadowlands and 13-3 ATS in their last 16 games against the Giants overall.
17. Cincinnati Bengals (3-4-1) - I think that I still might have this team too high heading into its bye week. They have been able to move the ball on paper, posting the No. 6 total offense in the league. But they are No. 31 in the league in yards per point (18.9) and are one of the least efficient groups in football. The defense is old and slow, and I don't see a talent influx coming any time soon.
18. New York Giants (4-3) - Show me what you got, Ben McAdoo. He hasn't been impressive at all in his first half of a season at the helm in New York. Now we will see how prepared his Giants are out of a bye week. New York went 1-4 ATS after a week off in Tom Coughlin's last five years, and the Giants are a horrific 16-35 ATS in their last 51 games in November. Also, the home team in the Eagles series is just 6-15 ATS.
19. Carolina Panthers (2-5) - I'm not a big Cam Newton fan, but there is absolutely no doubt that he is right about his gripes against the officials. I thought that low hit by Arizona was going to put him out of the game. This week's matchup against the Rams is going to be a bit of a tricky one. Jeff Fisher is intimately familiar with the Cover-2 and Fisher has had two weeks to game plan for it. The Panthers defense has also gotten shredded in its last two road games, allowing 89 combined points, and if you go back to last season the Panthers have allowed an average of 32.4 points per game in their last games outside of Charlotte. They are 5-2 against the total in those games and 0-7 ATS.
20. New Orleans Saints (3-4) - The Saints are starting to get an awfully big bandwagon for a team that is still below .500. The Saints have outgained five of their seven opponents this year and are on a 5-1 ATS run. They are clearly better than their record suggests, but by how much? New Orleans is going back on grass - a surface on which they have played notoriously poorly in the Payton-Brees Era - this week and making their second trip to the West Coast. This will also be their ninth game against the 49ers, a former divisional rival, in the past 10 years. The Saints have won five of the previous eight, and the favorite has gone just 4-4 ATS in those contests.
21. New York Jets (3-5) - The road team has absolutely dominated the Jets-Dolphins series, winning seven of the last eight meetings outright. The Jets have won three straight in this series (and four of five) and have been a cash cow in this series throughout this century. The Jets are 16-5 ATS in their last 21 trips to Miami and they are an outstanding 26-9 ATS in the last 35 meetings overall. The Jets have gone 8-2 ATS in their last 10 divisional games as well. This defense also needs to improve - rapidly - in the red zone. They are allowing two-thirds of all opposing drives inside the 20 to end in a touchdown, and seven of the last eight have resulted in six points for their opponents.
22. Baltimore Ravens (3-4) - The Ravens have won three straight games against the Steelers and taken down their hated rival in five of the last seven matchups going back to 2012. Seven of the last 10 meetings in this series have been decided by three points or less. Baltimore is on a four-game losing streak, but they should've won at least two of those games, giving away games to Oakland and Washington and blowing a 10-0 lead against the Giants. Baltimore is just 2-12 ATS in its last 14 home games after spending a decade with one of the best and most underrated home-field advantages in the game. The Ravens are, however, 17-8 ATS in their last 25 games against a team with a winning record.
23. Tennessee Titans (4-4) - I bet you didn't know that the Titans currently boast a Top 10 offense and a Top 10 defense. It's true. Not only that, but they are in the Top 5 in both rushing offense and rushing defense. I always say that if you run the ball and stop the run you are going to win more than you lose. We will see if that holds form for the Titans. Tennessee has won three of four games outright. But hey have played one of the easiest schedules in the NFL and haven't beaten a team that's over .500 yet this season. They are also just 2-4 ATS in their last six games, so it is not as if this team is being overlooked or overrated by the books.
24. Detroit Lions (4-4) - I am not one to defend Jim Caldwell, who looks lost most of the time, but he was 100 percent right to kick that onsides kick against Houston. His team was down a touchdown with just under three minutes left and had all three timeouts. If he kicks away then he is counting on his putrid defense to get a stop. That is the only chance Detroit has at tying the game. But by kicking the onsides kick he essentially gave his team two "outs" (recovering the kick or getting a stop) for the price of about 25 yards of field position. It was the right call. His decision not to challenge DeAndre Hopkins' fumble earlier in the game, however, was not.
25. Los Angeles Rams (3-4) - I think it is safe to say that Jeff Fisher is finding the Los Angeles media a lot less forgiving and a lot more aggressive than what he's had to deal with in Nashville and St. Louis. We will see if the increased pressure - Fisher probably has to finish over .500 to keep his job - has any impact on Fisher's game management decisions down the stretch. He's been erratic and pretty bizarre to this point, so it will be interesting to see how he handles the increased scrutiny. The Rams are 7-2 ATS after a bye.
26. Indianapolis Colts (3-5) - Chuck Pagano is channeling his inner Jim Fassel. Remember Fassel's 2000 speech about "shoving his chips in" and the Giants going to the playoffs? Well, Fassel knew he was fired if the G-Men didn't make the postseason anyway. So Pagano's talk about "season-defining stretch" is just talk because he knows if the Colts don't turn things around and make the postseason he will definitely get fired. Why can't these guys find a punt returner, by the way? Their special teams is the latest phase of the game in which the Colts are being embarrassed.
27. Miami Dolphins (3-4) - Miami has stopped going no-huddle and it has paid dividends, with the Dolphins posting their two best and most complete offensive performances of the season in the past two weeks against Pittsburgh and Buffalo. I expect a much more deliberate pace again this week. The Dolphins are 8-20 ATS in their last 28 games, 4-11 ATS in their last 15 home games, 5-16 ATS in their last 21 games against a team with a losing record, 5-17 ATS in their last 22 conference games and 2-9 ATS in their last 11 divisional games. So yeah, go ahead and bet against Miami every game they are in one of those situations.
28. Tampa Bay Buccaneers (3-4) - This defense looked horrible in the second half against a shaky Oakland offense. However, Tampa Bay's stop unit actually has a 21.5 opponents yards per point the last three weeks, No. 2 in the NFL. They are the only defense not currently ranked in the Top 10 on the season that's cracked the top eight in DYPP during that span.
29. Chicago Bears (2-6) - Dear God, the Bears actually looked like a real live football team on Monday. And Jay Cutler looked like a real NFL quarterback. Don't be fooled though. All Cutler did was prove that he is better than journeyman Brian Hoyer. He is still the same turnover-prone malcontent that he has always been. But Cutler knows that his final eight games in Chicago are an extended job interview for the rest of the NFL.
30. Jacksonville Jaguars (2-5) - Forget about the offense, how are the Jaguars going to fix their defense? Jacksonville is No. 27 in points allowed and No. 32 in the NFL in defensive yards per point. However, they are actually No. 13 in total yards allowed and have a Top 10 (No. 8) pass defense. Another fun fact: opponents have not missed a field goal against the Jaguars all season. These guys are getting pushed around in the front seven and they can't generate any turnovers. Their five combined turnovers (and minus-8 turnover differential) is the second-worst in the NFL. The Jaguars are 0-8 ATS in a Sunday game after playing on Thursday Night Football.
31. San Francisco (1-6) - You have to honestly ask yourself: do you think that this team did absolutely anything over the last two weeks to improve itself? Do you think Chip Kelly has inspired his troops to fight the good fight down the stretch, sacrificing their bodies for the good of the team and building toward the future? Me neither! They have stayed within a touchdown of exactly one team the last six games (0-6 ATS), and their average margin of defeat is a healthy 17.2 so far this season.
32. Cleveland Browns (0-8) - As I have been saying since the season started: this team will not win more than one game this season and the odds of them going 0-16 are better than the odds of them NOT. Anyone counting on Josh Gordon to come in and be a savior for this group shouldn't hold their breath. Gordon is out of rehab, but there is no guarantee that he will be reinstated. And even if he is allowed back in the league, the guy hasn't played in years. I wouldn't trade for Gordon (Buffalo), and if he is smart he will stay as far as he can away from this dumpster fire.
Throughout the season I will have my NFL Power Rankings every Wednesday. My next ones will be released on Wednesday, Nov. 9.
Robert Ferringo is one of the top football handicappers in the country and tallied an unrivaled $20,800 in football profit between 2011 and 2015, including his amazing 2013 NFL season in which he hit 62.1 percent (95-58). Robert has produced 15 of 23 winning football months and an amazing 38 of 58 winning football months over the past decade. Robert has hit nearly 60 percent winners over his last 750 totals picks and is the most prolific big play football handicapper in the nation, going 110-69 (62%) on all football plays rated 5.0 or higher since 2010. Also, Robert's proprietary KING College Football Betting System has posted three of four winning seasons and is 122-92 over the last three years (57.0 percent).
We are offering new clients $60 in free college football picks for Robert's picks or any Advisory Board handicapper of your choosing. Get your free college football picks now!
Read more articles by Robert Ferringo