NFL Power Rankings Week 6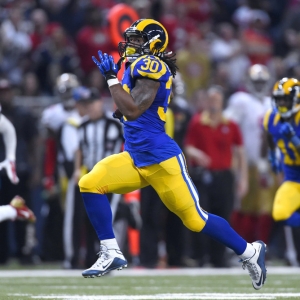 The four rookie starting quarterbacks combined to go 4-0 straight up and against the spread last week. It was the first time in NFL history that four rookie signal callers won on the same day.
In the meantime, five of the most successful and consequential quarterbacks of the past 15 years - Eli Manning, Ben Roethlisberger, Joe Flacco, Aaron Rodgers and Alex Smith - all threw up on themselves, combing to go 1-4 straight up and 2-3 against the spread.
I don't mean to suggest that last weekend was some trite "passing of the torch" moment. But what I have come to realize is that we are at an odd tipping point in NFL betting where very few quarterbacks can actually be trusted in any given week. The youngsters are going to be erratic and will have more bad days than good ones. But the aging players have proven to be just as erratic, with few of them showing the consistency and high-end ability that has marked their careers.
I am much more of a situational/system handicapper when it comes to NFL betting. But it is a natural instinct for gamblers to look at a matchup and want to put money down on a certain coach or quarterback in a certain situation against a certain opponent. It's like betting on a starting pitcher in baseball.
But more and more we are seeing that this method is worthless. As teams led by mediocre arms like Ryan Tannehill, Andy Dalton, Marcus Mariotta and Mitch Trubisky have combined to go 14-5 ATS so far this season.
Quarterback is the most difficult and most important position in sports. But handicappers need to take a much more macro approach to finding NFL winners against the spread. The days of simply putting money behind a Peyton Manning or Brett Favre and letting them work their magic are done. And until the next generation of quarterbacks truly establish themselves, it will remain a dicey proposition backing one of the nearly half of the teams in the league led by either a raw newcomer or a past-his-prime veteran.
Here is Doc's Sports NFL Power Rankings:
1. Los Angeles Rams (5-0) - The only thing that can slow this team down is injuries, and they seem to be coming in bunches. The issues in their secondary were glaring last week. And now there's a good chance they will be without Cooper Kupp and Brandin Cooks this week.
2. Kansas City Chiefs (5-0) - That was a misleading final score for the Chiefs last week. The Jaguars had two turnovers inside the five-yard line, another turnover at midfield, and a pick six. That is now six straight ATS wins dating back to the preseason, and it will be interesting to see how the public handles Kansas City as they head to Foxboro.
3. New England Patriots (3-2) - The Patriots had absolutely no answers for the Chiefs offense when they met last year, surrendering 537 yards. It will be interesting to see what, if any, adjustments the Pats make. I do know this, though: New England might not be able to stop the Chiefs but there is no way that Kansas City's limp defense is going to be able to slow down Tom Brady and the Pats.
4. Minnesota Vikings (2-2-1) - The last time the Vikings were favored by double-digits they were coming off an emotional win and then laid an absolute egg against the Bills. They are now 11-point favorites over the Cardinals this week and once again coming off a big win. Will they lay another egg as a massive favorite? The Vikings are 45-21 ATS in their last 66 games and 11-5 ATS against teams with a losing record.
5. New Orleans Saints (4-1) - The Saints now have two weeks to bask in the glow of their Monday night thrashing of the Redskins.
6. Baltimore Ravens (3-2) - This is a revenge game for the Ravens this week. They lost at Tennessee last season, as a three-point underdog, despite outgaining the Titans by nearly 100 yards. The Ravens are just 1-4 ATS in their last five trips to Tennessee and just 2-6 ATS in the last eight meetings overall.
7. Carolina Panthers (3-1) - The Panthers are 0-4 ATS after a win, but they are also a solid 6-0 ATS after giving up 30 or more points in a game. The Panthers have been an excellent road underdog, going 7-1 ATS, but they have also lost four straight road games outright.
8. Chicago Bears (3-1) - Here are the most tangible results from Matt Nagy and Khalil Mack joining Chicago: the Bears are No. 4 in the NFL in yards per point this season (after finishing No. 28 last year) and No. 3 in defensive yards per point. I don't know if they are quite ready to be road favorites, but 75 percent of the public is piling onto the Bears.
9. Jacksonville Jaguars (3-2) - I absolutely refuse to bet on or against the Jaguars the rest of the year. It is impossible. Of all the loser quarterbacks in the NFL, Blake Bortles is by far the biggest. I have no idea why anyone thinks he is an NFL-caliber starter. This roster is stacked. But this moron is singlehandedly holding them back, and the Jaguars are No. 31 in turnover differential right now at minus-seven.
10. Los Angeles Chargers (3-2) - This week is a tricky spot for the Chargers. They are coming off a blowout rivalry win to get over .500. Now Los Angeles has to travel East for that 10 a.m. PST start. The Chargers beat Cleveland 19-10 last year. But Los Angeles is 0-6 ATS in this series going back to 2006.
11. Cincinnati Bengals (4-1) - This might seem a little low for a team that is 4-1. However, the Bengals are a bit of fool's gold right now. Realistically, they should be 1-4 right now, with some fluke last-minute plays/breakdowns by opponents gifting them wins against the Colts, Falcons and Dolphins. The Bengals have been outgained this season and are in the bottom half of the league in most major offensive and defensive categories.
12. Pittsburgh Steelers (2-2-1) - The Falcons game turned into a rout, so it ultimately didn't matter. But Big Ben has way too much experience to make throws like that horrible interception in the end zone with 18 seconds left in the first half. That was a 15-10 game at the time. And against a competent opponent it could've been a cripple.
13. Philadelphia Eagles (2-3) - This Giants-Eagles rivalry hasn't been much of a rivalry. The Eagles are 7-1 straight up in the last eight meetings between these two teams and they outgained the Giants by 140 yards in that one loss.
14. Green Bay Packers (2-2-1) - Who are the Packers going to beat by double-digits? I was stunned to see Green Bay as such a heavy Monday Night Football favorite considering how bad this roster is.
15. Cleveland Browns (2-2-1) - I have to admit that I was totally wrong about Baker Mayfield and Denzel Ward. Totally wrong. I think it is obvious early on that Mayfield really is the best of the young quarterbacks, and I don't think it is even close. And right now Ward isn't in competition for defensive rookie of the year - he's in the running for Defensive Player of the Year. Ward has been incredible.
16. Washington Redskins (2-2) - The most overrated handicapping angle in football is betting on teams off of a bye thinking that they will have taken advantage of that extra week of rest. When does that ever play out? The Redskins and Panthers have met 10 times since 1999. The home team is 8-2 SU, although the Redskins have lost the last two times they've hosted Carolina.
17. Denver Broncos (2-3) - The Broncos are now 0-5 ATS to start the season. They have been outgained in three straight games, all losses. And while Case Keenum has regressed, the biggest issue with this team is that they are no longer a dominating defense. They are No. 26 in total defense, No. 30 in rushing defense and No. 23 in points allowed.
18. Miami Dolphins (3-2) - Laremy Tunsil (concussion) would be the third offensive line starter the Dolphins have lost in the last three weeks. Miami's 11 takeaways are tied for second in the NFL. But they have turned the ball over nine times themselves, negating what should be a huge edge.
19. Detroit Lions (2-3) - Rookie coaches usually struggle coming out of a bye week. So, while the Lions should get healthier while key players like T.J. Lang, Ziggy Ansah and Kerryon Johnson heal up, I wouldn't expect the Lions to come charging out of their week off.
20. Dallas Cowboys (2-3) - There is no way that anyone can defend Jason Garrett's decision to punt the football in overtime on Sunday. And you can't compare it to Frank Reich's absurd decision the week before. If Reich had been successful, his team still needed about 20 more yards to get into field goal range. If Garrett had been successful his team would've instantly had at least a shot at a game-winning kick on fourth down. But Garrett is a proven loser and made a loser's decision.
21. Tennessee Titans (3-2) - Dean Pees and Mike Vrabel have done a tremendous job with this perpetually-underachieving defense. The Titans are No. 7 in total defense and are in the Top 5 in pass defense and points allowed.
22. Tampa Bay Buccaneers (2-2) - Teams have been absolutely terrible with extra rest this season. Both teams off byes (Washington and Carolina) failed to cover, and teams off a Thursday game are a combined 1-7 ATS in their following game this year. We will see if Tampa Bay put their week off to good use.
23. Atlanta Falcons (1-4) - The Falcons are done. Their defense is practice squad-caliber right now. I still think that they will be without Grady Jarrett again this week. And without him the Falcons are starting maybe four guys (of 11) that wouldn't be capable of starting on another NFL team right now.
24. Seattle Seahawks (2-3) - I'm not at all fooled by Seattle's desperation game against the Rams. They were outgained by 100 yards in that one and benefitted from some fluke big plays to keep that one close. They are now in a letdown spot here this week against the Raiders, with nearly 70 percent of the public backing this fraud of a team.
25. Houston Texans (2-3) - This week is a clear letdown spot for the Texans after beating their in-state rivals in a nationally-televised game. Is Houston going to have the juice to blow out an overmatched Bills team? Houston is just 1-9 ATS in its last 10 games overall and 4-11 ATS in their last 15 games after a win.
26. New York Jets (2-3) - The more I see the Jets the more I think that this team should be better. They finally have some talent and a well-rounded offense. But for some reason it hasn't clicked with this group. The Jets are 5-2 ATS in their last seven against the Colts and 6-2 ATS in their last eight home games against Indy.
27. Oakland Raiders (1-4) - I said it last week and I will say it again: Derek Carr needs to stop with the rainbow throws! I appreciate a good touch pass as much as the next guy. But at some point Carr has to stop doing his Chad Pennington impression and put some zip on the ball. He missed another wide-open touchdown pass early in the game, on a broken play with him out of the pocket, because he lobbed up a rainbow instead of leading his receiver with a strong throw down the field.
28. Indianapolis Colts (1-4) - The Colts lead the NFL in third down conversions (51 percent). Yet despite that, they are still just No. 30 in time of possession (28:20 per game). The Colts are 30-12 ATS against sub-.500 opponents and 35-17 ATS in their last 52 games after a loss.
29. San Francisco 49ers (1-4) - The 49ers are an incredible 25-6 ATS in their last 31 games on Monday Night Football.
30. New York Giants (1-4) - I'm not a big fan of Odell Beckham's work. He had another just blatant fourth down drop early in Sunday's game. But I actually didn't have a problem with anything he said about Eli Manning. Manning is a loser at this point and shouldn't be a starting quarterback. Beckham is just pointing out the obvious.
31. Buffalo Bills (2-3) - If Buffalo were a real team they would've won Sunday's game by 20. Tennessee absolutely did not come to play at all. And Buffalo did absolutely everything they could to let the Titans hang around in that game.
32. Arizona Cardinals (1-4) - I'm not exactly sure why everyone is giving Josh Rosen so much credit. I have watched every snap of his two starts. He holds the ball way too long and the game looks way too fast for him right now. Rosen is completing 49 percent of his passes and has been completely underwhelming.
Throughout the season I will have my NFL Power Rankings every Tuesday. My next ones will be released on Tuesday, Oct. 16.
Robert Ferringo has been the top football handicapper in the country the past seven years, earning nearly $28,000 in total football profit. He has also posted seven of nine winning seasons (including back-to-back winning years) and produced 26 of 41 winning football months and an amazing 45 of 70 winning football months over the past decade. Robert has eight of 10 winning NFL preseasons and he is at nearly 60 percent winners over his last 900 totals picks. Also, Robert's proprietary KING College Football Betting System has posted three of five winning seasons. Robert is looking for a third straight winning football year and wants more profit this fall. SIGN UP HERE TODAY AND TAKE ADVANTAGE OF OUR 3-FOR-1 FOOTBALL SPECIALS!
We are offering new clients $60 in free NFL football picks for Robert's picks or any Advisory Board handicapper of your choosing. Get your free NFL football picks now!
Read more articles by Robert Ferringo